The Experts in Pests Serving Yuma and Surrounding Areas
Flea & Tick Control in Yuma
Are you tired of the constant battle against blood-sucking bugs in your home? You're not alone. Fleas and ticks can be more than just a nuisance— they can pose serious health risks to both humans and pets.
At Yuma Pest & Termite Systems, we understand the importance of protecting your family and pets from these relentless invaders. That's why we offer excellent flea and tick control services in Yuma designed to help you reclaim your home and protect your loved ones.
Don't let fleas and ticks rule your home! Yuma Pest & Termite Systems is here to provide effective and long-lasting solutions to eradicate these unwelcome guests. Let our team of professionals help you regain control and enjoy a pest-free living environment once again.
To get started with a free estimate, call us at (844) 977-0834.
Are Fleas & Ticks Dangerous?
Fleas and ticks can pose significant dangers to both humans and pets.
Fleas can transmit parasites like tapeworms and bacterial infections such as cat-scratch fever. Their bites can lead to intense itching, skin irritation, and even allergic reactions in sensitive individuals. A severe flea infestation can cause anemia, particularly in young or small animals, due to blood loss from multiple bites.
Ticks are even more notorious for their ability to spread serious illnesses. They are responsible for transmitting Lyme disease, which can lead to long-term health complications if left untreated.
Other tick-borne diseases include:
Rocky Mountain Spotted Fever
Ehrlichiosis
Anaplasmosis
Babesiosis
These illnesses can severely affect human health, ranging from flu-like symptoms to organ failure.
Signs of a Flea Infestation
Pet Scratching and Biting: Excessive scratching, biting, or licking by your pets can indicate the presence of fleas.
Flea Dirt: Small black or brown specks resembling pepper, found on pet bedding or furniture, are flea feces.
Flea Eggs: You can find tiny, white, and oval-shaped eggs in carpets, rugs, pet bedding, or upholstery.
Visible Fleas: Adult fleas are small, reddish-brown insects that you can find jumping or crawling on your pets or surfaces.
Bites on Humans: Red, itchy welts or bites on your ankles and lower legs could signal a flea infestation in your home.
Signs of a Tick Infestation
Visible Ticks on Pets: One of the most apparent signs of a tick infestation is finding ticks attached to your pets, especially around their head, neck, ears, and paws.
Tick Bites on Humans: If you or your family members have unexplained bug bites, especially in a pattern of a small red dot surrounded by a larger red circle, it could be a sign of ticks.
Tick Nymphs: These immature ticks are tiny and can be hard to spot, but if you find them crawling on your pets or yourself, it's a clear sign of an infestation.
Unusual Pet Behavior: Pets may become lethargic, lose their appetite, or show other signs of illness if they suffer from tick-borne diseases.
Ticks in Your Yard: If you spot ticks crawling on tall grass, shrubs, or other vegetation in your yard, there's a good chance they've infested your outdoor space.
Flea & Tick Treatments
In most cases, effective flea and tick treatments begin with your pet. We recommend working with your veterinarian to select a safe product or treatment that repels fleas and ticks. Though it may sound like a small step, depriving fleas and ticks of their food source is vital in the overall battle for your home.
The next step is to target areas where your pets spend time. We offer several effective treatments that are safe for indoor and outdoor use around people and pets.
We use a two-pronged approach to combat flea and tick infestations:
Plant-based pyrethrin insecticides to target adult fleas and ticks.
Insect growth regulator to prevent the next generation of pests from maturing, allowing us to put an end to the infestation for good.
We also take the time to assess your property and recommend any appropriate non-chemical solutions.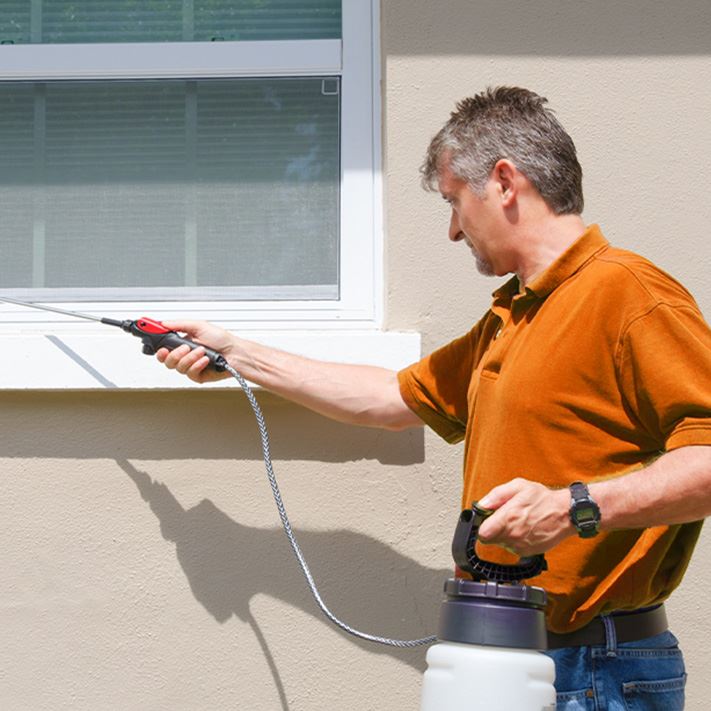 Areas We Serve
call our team at

(844) 977-0834

for more information
Integrated Pest Management for Fleas & Ticks
Arachnids and insects both require moisture to survive. The climate works in your favor here in the nation's driest city.
Keeping your yard well manicured will make your property much less hospitable to these pests. Logs, dead leaves, and landscape trimmings all create nice hiding spots for fleas and ticks, as well as scorpions, rodents, and other creepy crawlies.
Using xeriscape principles can minimize the need for irrigation and thereby repel ticks and fleas, as lush, overwatered, and overfertilized lawns provide a valuable source of moisture they rely on to survive.
When used with other methods, these practices reduce the use of chemicals, enhance treatment results, and prevent recurring infestations.
At Yuma Pest, our experts carefully assess your yard and home to determine where fleas and ticks hide. We consider the life cycle of these creatures, our local climate, and various other factors to develop a treatment plan that delivers optimal results.
Call us at (844) 977-0834 or contact us online for flea and tick control services in Yuma.
"Incredible Service"

Memo was just incredible and determined to make sure that all of the work done For the termite work was done properly and we were very happy with it.

- Julie W.

"Great Service"

We were happy with the service provided. They seemed very thorough and explained what they did.

- Dixie T.

"Very Professional"

They were very knowledgeable about the services provided and gave a thorough explanation of everything they found in and around our house

- Lauren T.

"Knowledgeable Company"

Knowledgeable professionals who treat my property to ensure that my home is safe from termites and other pests.

- Charles R.

"Above & Beyond Service"

Excellent value, and give me realistic windows for appointments and call when they're on their way.

- Charlotte K.

"Prompt & Professional"

Yuma Pest was very professional and did a thorough job of inspecting and treating our property.

- Hunter C.

"Highly Recommended"

I am pleased with the service they provide. I like the time they have spent with me to educate me.

- Mike O.

"Pleased with their quick response in making good on original service call efforts. Very professional."

- Very Professional